| | | |
| --- | --- | --- |
| Minimum 3.5% Down with 580+ | Minimum 10% Down With 500+ | 6% Seller Paid Closing Cost |
| Down payment Assistance OK! | Gift or Down payment = OK | Higher Debt To Income Up to 56% |
| Co Borrowers = OK! | Streamline Refinance!  | Manual Underwrite = YES! |
PALM BEACH COUNTY FL FHA MORTGAGE LENDERS - WEST PALM BEACH FL FHA MORTGAGE LENDERS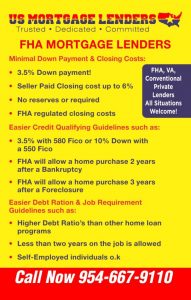 FLORIDA HOME BUYERS ASK EVERY DAY, "WHAT IS THE MINIMUM CREDIT SCORE FOR AN FHA MORTGAGE"? 
If the Minimum FHA Mortgage Credit Score is at or above 580+ the FHA mortgage applicant is eligible for 96.5% Financing. Our Minimum Credit Score for an FHA mortgage is 500. If the Minimum FHA Mortgage Credit Score is between 500 and 579, the FHA mortgage applicant is limited to a maximum loan-to-value (LTV) of 90 percent of the loan amount..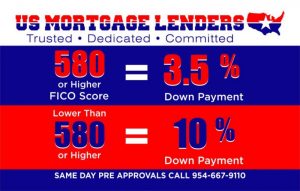 The Federal government insures Florida FHA mortgage lenders against losses, therefore the FHA mortgage applicants has very minimal down payment and closing cost. FHA mortgages lenders will require a minimum 3.5% financial commitment. In additions, FHA mortgage lenders allow for the home seller to pay all your closing cost up to 6% of the sale price.
• EASIEST TO QUALIFY •
Prequalifying with a Florida FHA mortgage lenders is rather easy. The result of the FHA mortgage insurance guarantee educes Florida FHA mortgage lenders make it feasible for just about anybody with a decent 12 month payment history to qualify. The primary components of an FHA mortgage include down payment, credit, debt to income ratio.
• FIXED 30 YEAR RATES WITH NO PREPAYMENT PENALTIES •
One of the big advantages of using a Florida FHA mortgage lenders is the benefit of having a fixed 30 year interest rate with 0 NO prepayment penalty. In comparison to other conventional Fannie Mae and Freddie mac mortgage loans in which you risk the possibility of a mortgage rate that could change. The FHA mortgage is typically for 30 years. The result of this FHA mortgage provision FHA mortgage applicants can budget their predetermined installment FHA mortgage payment in advance.
• NO RESERVES ARE REQUIRED •
 In contrast to most conventional home loan programs, Florida's FHA home loan is a very tempting option for Florida first time buyers that have a little saved for down payment let alone future mortgage payments. 
Florida First Time buyers should click apply now at the top of this website to learn what to expect with the FHA mortgage process. Being prepared will always boost your chances in getting your FHA mortgage approved. 
CATEGORY: FHA MORTGAGE GUIDELINES
POPULAR PALM BEACH FLORIDA ARTICALS
palm beach gardens fl bad credit fha mortgage lenders